NetBSD release glossary and graphs
NetBSD is available in three forms:
Additionally, there is a graph showing an overview of release branches, depicting the 6.0 release and the following maintenance branches as an example.
Prior to the release of NetBSD 2.0, a different numbering scheme was used. For completeness, there is also a section which describes the old release numbering scheme.
---
---
---
Up until the NetBSD 2.0 release, we used a slightly different release numbering scheme. In that scheme, the major releases were numbered as 1.5 and 1.6, and the minor releases were numbered as 1.4.3 and 1.6.2. The version designations for NetBSD-current would be formed by the previous major version and one or two letters, such as 1.6B or 1.6ZA.
The following figure illustrates the relationship between the earlier NetBSD releases and the CVS branch names and CVS tags.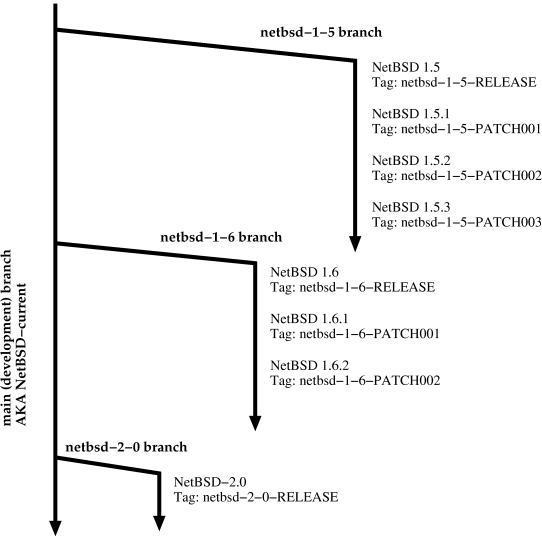 Lastly, an additional complication and deviation from the above rules is worth mentioning for completeness (and it also shows in the old release branch graph above), and that is that even though the change in release and CVS branch naming was done prior to the final release of 2.0, it was done after the point where the release branch for the release was created. Thus, the initial branch tag for the 2.0 release was netbsd-2-0, and not netbsd-2, as it should have been under the new scheme. However, the branch names following the release of 2.0 are adhering to the new rules, i.e. the branch leading up to 2.0.1 is netbsd-2-0 and the branch which will lead up to 2.1 is netbsd-2.